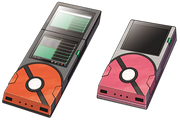 A Pokédex is an item used by most Pokémon trainers. Its features in the Hora region are slightly different from those of other Pokémon regions.
Features
Edit
Can record Pokémon data including height, weight, cry, and the areas they are found.
Can display the HP and current moveset of a Pokémon. Shown by  Jason's Pokédex, it can also give information about a Pokémon's move and show which Pokémon can learn it.
Can double as a cellphone.
Can inform it's owner about certain items such as Apricorns.
It also contains a town map, which can display, in detail, a town or route. This is shown with Lyra's Pokédex.
Can detect Aura wavelengths. Shown by Sean's model, which can be used to track Pokémon which use Aura.
Pokédex Holders are Pokémon Trainers that have been given a Pokédex by a regional Professor. The Pokédex Holders in Hora are;